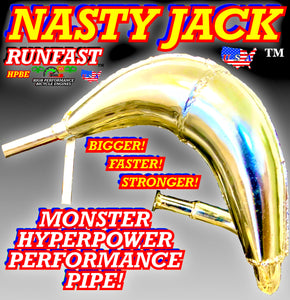 RUNFAST NASTY JACK HIGH PERFORMANCE 2-STROKE 48cc 49cc 50cc 66cc 80cc 100cc EXPANSION CHAMBER MUFFLER TUNED PIPE FOR MOTORIZED BIKE
Regular price $69.99 Sale
RUNFAST NASTY JACK HIGH PERFORMANCE 2-STROKE 48cc 49cc 50cc 66cc 80cc 100cc EXPANSION CHAMBER MUFFLER TUNED PIPE FOR MOTORIZED BIKE
CHROME hyperpower performance expansion chamber power muffler pipe exhaust for 49cc 50cc 80cc 80cc 100cc motorized bike 2-stroke. 
Bigger.
Faster.
Stronger.
Includes exhaust gasket.
Feature:
Brand new and high quality, 80cc LARGER STRONGER Exhaust Muffler.
Fit models: For 49cc 60cc 66cc 80cc 2-Stroke Engine Motor Motorized Bicycles Motorized Bike
Muffler Exhaust Pipe.
Durable and long service life.
A perfect aftermarket replacement.
ADDS MORE POWER THAN STANDARD EXPANSION CHAMBERS
Easy to install.
Color:Silver
Material:Metal
Package Included:
1 x Muffler Exhaust
1 x Gasket