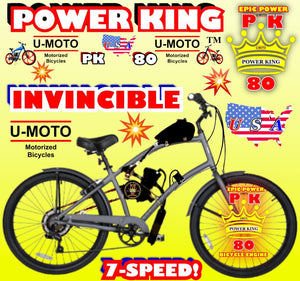 U-MOTO DO-IT-YOURSELF 2-STROKE INVINCIBLE 7-SPEED CRUISER
Regular price $449.99 Sale
GET READY FOR MOTORIZED BICYCLE-RIDING EXCITEMENT WITH THE NEW U-MOTO DO-IT-YOURSELF 2-STROKE INVINCIBLE 7-SPEED CRUISER!  BUILD YOUR OWN MOTORIZED BICYCLE!  RIDE WITH PRIDE!
BENEFITS INCLUDE:
SIMPLE PEDDLE-START ACTION!  PEDDLE, POP THE CLUTCH, TURN THE THROTTLE AND GO!
PEDDLE OR MOTORIZE ANYTIME!
EXTREME FUEL EFFICIENCY WITH 100 MPG!
SPEEDY AT 30+ MPH!  (FOR SAFETY IT IS HIGHLY RECOMMENDED THAT RIDERS GO NO FASTER THAN 10-15 MPH.  INSTALL A SPEEDOMETER.   FOLLOW ALL TRAFFIC LAWS AND ORDINANCES.  WEAR HELMET.)  
WHAT YOU WILL RECEIVE:
1 COMPLETE 26" U-MOTO

INVINCIBLE

(TM) ALUMINUM-FRAME 7-SPEED CRUISER BICYCLE WITH FRONT AND REAR V-BRAKES.  (ASSEMBLY REQUIRED)
1 COMPLETE BLACK U-MOTO IGNITE (TM) ENHANCED 48CC OR 66CC/80CC MOTOR KIT WITH COMPLETE COMPONENTS NECESSARY TO MOTORIZE YOUR BICYCLE (ASSEMBLY REQUIRED.)   
1 SET OF INSTRUCTIONS TO MOTORIZE YOUR BICYCLE
ONLINE VIDEO INSTRUCTION
 THE FOLLOWING FEATURES INCLUDE:     
POWERFUL FRONT/REAR V-BRAKES FOR ULTIMATE STOPPING POWER 
FULL-STABILITY HANDLEBARS FOR TOTAL CONTROL
FRONT SUSPENSION SYSTEM FOR SHOCK-ABSORBING RIDES
7-SPEED SHIFT-ON-THE-FLY BICYCLE GEARING SYSTEM
COMFORTABLE OVERSIZE CRUISER SADDLE
INDUSTRIAL TONES FOR THAT EYE-CATCHING LOOK
U-MOTO IGNITE (TM) ENHANCED 48CC OR 66CC/80CC 2-STROKE MOTOR AND MOTORIZATION COMPONENTS
MOTORIZED BICYCLE SPARK PLUG
BLACK CHAIN GUARD
BLACK EXHAUST/GASKET
CHAIN TENSIONER
CLUTCH LEVER
CLUTCH CABLE AND SPRINGS 
415 MOTOR DRIVE CHAIN
CDI IGNITION COIL 
1/2 GALLON  GAS TANK
CARBURETOR
KILL SWITCH
THROTTLE GRIP AND HANDLEBAR GRIP
THROTTLE CABLE
44-TOOTH SPROCKET
MOTOR-MOUNTING COMPONENTS AND  HARDWARE
GASOLINE LINE
FUEL FILTER
PHONE SUPPORT!
WARNINGS AND PRECAUTIONS:  
RIDING A MOTORIZED BICYCLE CAN BE DANGEROUS AND HAS THE POTENTIAL TO CAUSE SERIOUS INJURY AND EVEN DEATH.  AN OPERATOR OF U-MOTO MOTORIZED BICYCLES, PRODUCTS, AND SERVICES RIDE AT HIS/HER OWN RISK.   IT IS STRONGLY ENCOURAGED THAT A TRAINED MECHANIC INSPECT ALL ASPECTS OF THE MOTORIZED BICYCLE BEFORE RIDING TO CONFIRM SUITABILITY. CUSTOMERS WHO ARE NOT MECHANICALLY INCLINED OR UNFAMILIAR WITH MOTORIZED BICYCLES  ARE STRONGLY ADVISED TO SEEK HELP BEFORE ATTEMPTING TO MAINTAIN, FIX, OR INSTALL ANY ASPECT OF A MOTORIZED BICYCLE.   
NOTE:  FENDERS ARE INCLUDED WITH THE BIKE.  IT IS THE RESPONSIBILITY OF THE BUYER TO PROPERLY REINFORCE AND ATTACH THE FENDERS BEFORE RIDING.  THIS INCLUDES THE ADDITION OF HEAVY-DUTY STRAPS, SUPPORT SCREWS, THREAD LOCK, AND PRESSURE-DISTRIBUTING WASHERS.  FENDERS THAT ARE NOT PROPERLY REINFORCED CAN BREAK AT THE CONNECTIONS AND FALL INTO THE WHEELS.  THIS CAN LEAD TO SERIOUS ACCIDENTS, INJURIES AND EVEN DEATH.  
IT IS STRONGLY ADVISED THAT CUSTOMERS WHO WANT TO FULLY  REMOVE THIS RISK OF POTENTIAL DANGER RIDE THE MOTORIZED BICYCLE WITHOUT THE USE OF FENDERS.  
WHEN OPERATING A MOTORIZED BICYCLE ALWAYS:
Use front and rear lights when riding at night.
Wear a properly-mounted and fastened bicycle or motorcycle helmet.
Wear bright and conspicuously-colored clothing.
Wear gloves, pants, and closed-toed shoes.
Travel at the lowest speed possible (NO MORE THAN 10-15 MPH) to avoid serious accidents, injuries and death. 
Obey all state and city traffic laws, ordinances and, speed limits on the road. 
Practice riding the motorized bicycle in an open area free from traffic to become familiar with motorized riding. 
Plan out and use a safe route to ride where traffic is at a minimum.
Be aware of the traffic while riding on the road and use caution especially when merging, making left turns, and moving through intersections. 
Inspect the motorized bicycle before riding and make any necessary adjustments and/ or repairs. 
Maintain the motorized bicycle on a regular basis to ensure its integrity and proper functionality. 
Use caution when dealing with gasoline.  It is volatile, flammable and combustible.  Do not smoke when operating a motorized bicycle.    
UPON PURCHASE OF ANY U-MOTO MOTORIZED PRODUCT AND/OR SERVICE YOU AGREE TO AND ACCEPT THE TERMS AND CONDITIONS AS STATED AT